More Public Policy
April 4, 2023
US Allies Demand Meta CENSOR 'False Narratives' On Ukraine; This Is TOTALITARIANISM: Shellenberger Twitter Files author Michael Shellenberger weighs in on a recent letter sent to major social media platforms over disinformation.
---
March 28, 2023
Chairman Jordan Raises Alarm on Potential IRS Weaponization Against American Journalist
House Judiciary Committee Chairman Jim Jordan (R-OH) sent a letter to Internal Revenue Service (IRS) Commissioner Daniel Werfel and U.S. Treasury Secretary Janet Yellen raising concerns related to the IRS's unannounced and unprompted field visit to the residence of Matthew Taibbi, an independent journalist who testified before the Select Subcommittee on the Weaponization of the Federal Government hearing on his findings of government abuse and civil liberties violations. The IRS's surprise visit to Taibbi's home occurred the same day, March 9, 2023, that he testified to Congress on the "Twitter Files."
"The circumstances surrounding the IRS's unannounced and unprompted visit to Mr. Taibbi's home, at the exact time that he was testifying to Congress about 'the most serious' government abuse he has witnessed in his career as a journalist, are incredible. The IRS's visit is all the more concerning in light of Mr. Taibbi's assertions that the IRS informed him the problems were not 'monetary' and he had never received any prior indication of any issues with his 2018 return. These facts demand a careful examination by the Committee to determine whether the visit was a thinly-veiled attempt to influence or intimidate a witness before Congress."
---
WASHINGTON HB1333 has died in the legislature.
Washington Policy Center: SHB 1333, to criminalize free speech and independent thought in Washington state
The Center Square: 'Ministry of Truth': Critics warn Washington extremism bill targets free speech. WASHINGTON HB1333 IS A PARTISAN ABUSE OF POWER.
Washington Policy Center: SHB 1333, to criminalize free speech and independent thought in Washington state
The Center Square: 'Ministry of Truth': Critics warn Washington extremism bill targets free speech.
---
The media missed it: right-wing Freedom Caucus brought more democracy to US House
Horse-race reporting over the Speaker election ignored revival of democratic rules that Pelosi/Democrats previously had killed
Democracy SOS, January 19 Steven Hill
---
Brian Baird on US House Speaker Elections. Change the way House speaker is chosen, and speaker's roles Seattle Times January 5, 2023
---
December 8, 2022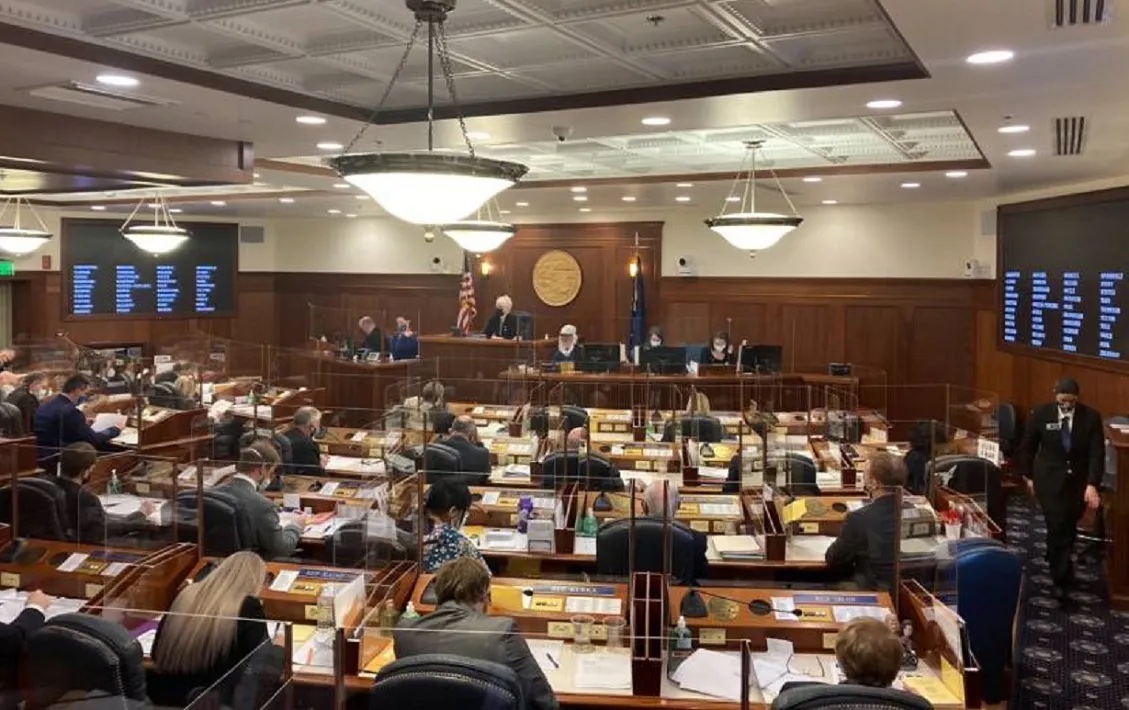 Alaska – of all places – shows what a bipartisan coalition could look like. Ranked choice voting has pulled off a small miracle – moderate Republicans and Democrats co-governing. Steven Hill, Democracy SOS.
---
November 28, 2022

Rob Richie, President and CEO of FairVote, shared the following statement in response to Alaska's ranked choice voting election results:

"Alaska has become the first state to elect its governor and State Legislature with ranked choice voting while also using this better method of voting to re-elect its U.S. Senator and congresswoman. Ranked choice voting gave Alaskans better choices up and down the ballot, and it freed them to express their independence and true preferences – a majority of voters chose to elect a conservative Republican governor, a moderate Republican senator, and a moderate Democratic congresswoman.

"Four out of five Alaskan voters say they find ranked choice voting 'simple.' In the statewide races, over 99.8% of voters cast a valid vote, and a significant majority of voters supporting eliminated candidates ranked a second choice. The Alaska Division of Elections ran the contest smoothly in the nation's geographically largest state. Overall, candidates who built deep and broad coalitions won; polarizing candidates who ran slash-and-burn campaigns lost. But all candidates had a fair chance to be heard.

"In the coming days, Alaska will certify results and release a full cast vote record, which will tell us how voters used their rankings and much more. Ranked choice voting results are far more transparent and reveal more about voter preferences than single-choice elections; FairVote will share an analysis of the cast vote record in the coming weeks

We look forward to the ways ranked choice voting will continue to improve campaigns, elections, and governance in the Last Frontier."

More analysis is available here. Simple, interactive ranked choice voting results displays available here.
---
November 27, 2022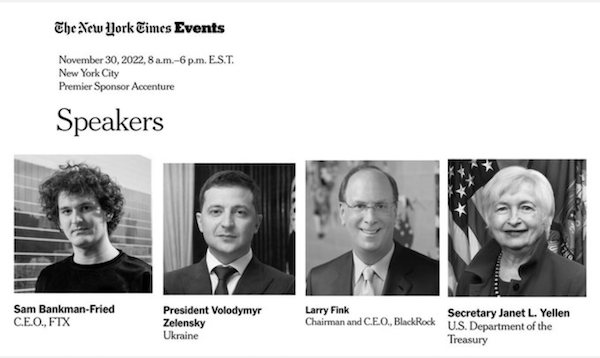 The New York Times DealBook Summit.

Ranked Choice Voting Wins in Seattle! This arrangement of RCV really is a modest change and I don't think it will make much of an impact. RCV4Seattle provides information about Proportional Ranked Choice Voting. This version of RCV must be the next move for Seattle election reform — a real game changer.
Matt Ford, October 14, 2022 The New Republic: Instead of Having a Racist and Corrupt City Council, Los Angeles Should Try Proportional Representation — A gaggle of bigoted municipal lawmakers have become unlikely—but effective—poster children for electoral reform:
"Angelenos could instead consider replacing the single-member district system with one that runs on proportional representation. As its name suggests, this means that each electoral group or party receives a number of seats that is proportional to its share of the vote. This system has multiple benefits, as I've noted before, including ensuring that every citizen's vote is actually reflected in the final makeup of a legislative body."
✓✓✓✓✓✓✓✓✓✓✓✓✓✓✓✓✓✓✓✓✓
October 11, 2022
Julie Anderson for Washington Secretary of State
Polarization has eroded trust in our government. The Secretary of State has the critical job of running trustworthy elections, as well as providing public records access, business registry, and library services. This demands experience. Partisanship has no place in the Secretary of State's office.
I've been Pierce County's nonpartisan Auditor for 12 years, leading a nationally recognized, award-winning office that has increased voter access, enhanced election security, and improved auditing procedures. I've provided oversight and statewide leadership in elections, increased access to public records, and streamlined business licensing. I hold national and state certifications in election administration and am a certified public records officer.
I've worked closely with counties throughout the state. Together, we've created a national reputation for excellence. That's how I've earned the trust and endorsement of more than 30 Democratic, Republican, and Independent election administrators and County Auditors throughout Washington State.
My experience and leadership managing hundreds of elections in Washington's second largest county has prepared me to serve as your Secretary of State. I will protect our democratic republic by making our elections more secure, transparent, and accessible. I ask for your vote.
---
(Krist Novoselić 2022 All Rights Reserved)