Secure Mail Ballots in Washington State
By Krist Novoselić, August 13, 2020
Last Friday, August 7, I received a notice from my county election official, informing me the signature on my mail ballot envelope did not match the voter registration signature on file. The election was August 4; and I had to respond by 4pm August 17th to resolve the issue for my ballot to be counted.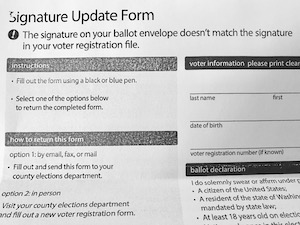 The notice included a postage paid return envelope. I had to go to the county courthouse anyway and took the opportunity to meet with Nicci Bergseng, our Wahkiakum County Auditor.
Nicci has helpful. She and an aide filled out the new signature form. Our County is in Washington's phase 3 of the Covid situation so we could meet in person. Nevertheless, I had to enter the Courthouse wearing a mask, and the Auditor staff were behind a recently installed plexiglass barrier. (I always wear a mask when I need to go out in public.)
I asked why my signature was pulled aside? Bergseng said that it did not match what was on file. I doubted this, and she produced the signature. Indeed, it had changed! I thought to myself, "Why and when did I change my signature?". Nicci said this can happen with individuals. She then informed me her and the county elections staff have been trained by the Washington State Patrol regarding verifying signatures.
I asked her why they looked at my ballot envelope? She said they look and match every signature they receive. At this moment, Diane Tischer, the previous Auditor joined our conversation. Diane said that every county in the state does this.
Wahkiakum County election officials have notified about forty people in the community that they need to confirm their signatures. She did not mention finding any forgeries.
I signed the form and we were done. Nicci said my ballot envelope was in a secure place and now was going to be included in the next round of counting.
My experience is an example of how Vote By Mail can be secure. This kind of voting is very popular in Washington State. Committing ballot fraud in Washington is punishable by imprisonment for not more than five years or a fine of not more than ten thousand dollars, or both such a fine and imprisonment.
If my signature had changed and I wanted my ballot to count, I had to send the form in and resolve the issue. The state tried to accomodate me as much as possible—including a postage paid return envelope. I will pay attention to my evolving signature. I had no idea!
If you want to learn more about mail ballots, go to the National Vote at Home Institute.
---
(Krist Novoselić 2020 All Rights Reserved)