February 17, 2021
Bomb - Hits of Acid
By Krist Novoselić
One evening in 1988 or '89, I stopped by Kurt Cobain's apartment in Olympia. All I really remember of the evening was being turned onto some cool music. I was informed, "You've gotta hear this.", and then also recall another moment from my Long Term Memory; the image of a tone arm being placed on a vinyl platter. The band was called Bomb, and the album Hits of Acid with the specific tune, "I Loved You Then I Died".
I heard a distorted, almost broken sounding bass and guitar line, with a crushing, tom drum cacophony coming in. Weird lyrics with goofy country western musical interludes followed. However, these silly, galloping musical diversions served a purpose to juxtapose the devastating climax of the song; when the drums switch to a heavy driving beat under the main riff. This was the moment my friend said I must hear, as he looked at me nodding in approval. It was music that was really heavy.
The rest of the record is also compelling. And I could see why Kurt liked it; as the music and lyrics are heavy, freaky and dark.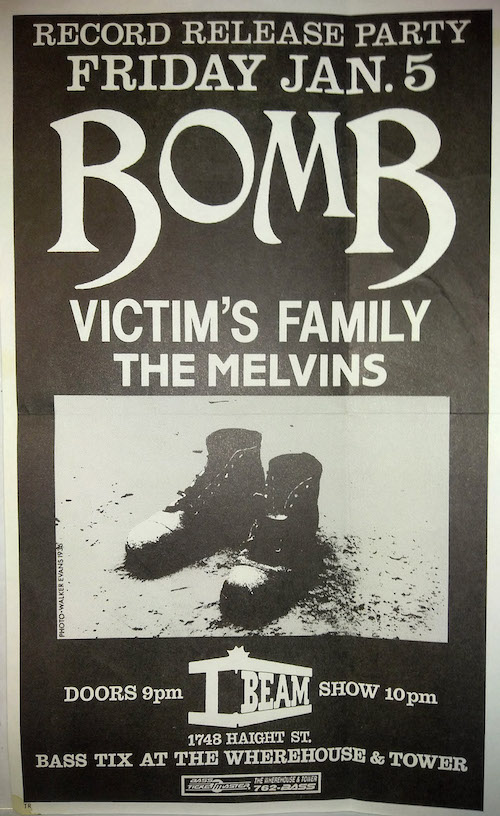 Nirvana were label mates with Bomb through the "Tupelo" imprint distributed outside the United States. Bomb were also on "Boner" records in the U.S.; label mates with Melvins. So there was a connection. Passing through San Francisco, where Bomb and Melvins were based, we always seemed to miss the former's shows. There were stories about crazy performances. I recall King Buzzo telling me of an instance of sex on stage between a Bomb band member and their girl friend at one show! There were also stories of drug abuse that were akin to some things I had heard about another S.F. band, my beloved Flipper. Michael Dean called me once in about 1992 asking to borrow $5,000. I knew the lyric, "Can you wonder, can you holler, can I borrow one more dollar?", and politely declined to loan any money. As my life changed profoundly with the ascent of Nirvana, I had lost track of Bomb (I also became disconnected from myself, or the pre-fame Krist. But this is another story.)
Fast forward 30 years. I reconnected with Michael Dean, who is living in Wyoming as a sober libertarian / electronic musician (Including some 12 Tone composing), who writes technical manuals and authors books. Dean is a 21st Century man. Last March, I was briefly the target of some Cancel Culture and Michael reached out to lend me personal support. (Since this targeting, I have reconnected with the pre-fame Krist. But this is yet another story.)
In the course of connecting, Hits of Acid came up and Michael said the only copy he had was streaming on his website; a digitized dub of a cassette! This got me thinking, so I bought a great condition copy of Hits of Acid on vinyl, digitized it then sent file to Michael who remastered the album and posted on his site.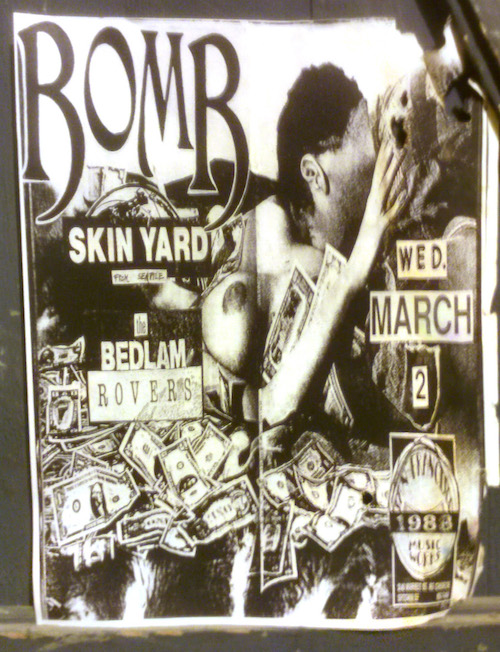 This was an improvement, but it seems like Michael also got to thinking. He performed some sleuthing and found the original two track master tapes. I suggested he call Godfather of Grunge Jack Endino. Jack is another big Bomb fan; who actually had seen the band play in the late '80s when Skin Yard opened for them in S.F..
Endino is a master tape baker. This means he is skilled at salvaging old magnetic tape reels which need heat applied to help keep them from falling apart. Jack got the reel and not only baked it, he digitized the material then remastered it.
So here we have Hits of Acid 2021, Forensic Remaster and Restoration. This reissue is out most everywhere there is digital music. If you like Grunge music, this work is a lost gem. Also check out Bomb's Lucy in the Sky with Desi for more weird, heavy music.
Bomb Hits of Acid by, Michael Dean Bass & Vocals, Jay Morgan Crawford Guitar and Tony Fag Drums.
---
(Krist Novoselić 2021 All Rights Reserved)