Krist Novoselić
---
Rock On!
---
Latest
🎤March 22, 2023🎥
Thank you Butch Vig and Rick Beato for the kind words. Great memories and am moved by the recollections. Am also humbled. Great to hear Smashing Pumpkins. In fact, loving Atum and listening every day. "Beguiled" rocks!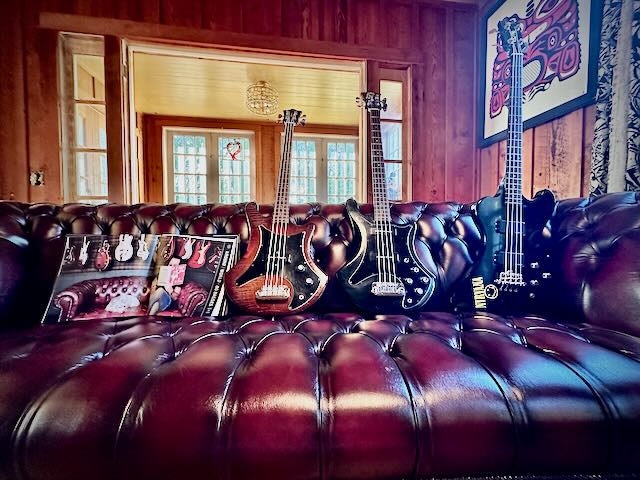 Just bought a couple of bass guitars. Guild B-301 and B-302 from mid-1970s. Lots of patina. Have not plugged them into an amp yet. Got them online, on a whim. Also, obtained the RD Artist last year. This one has the Moog electronics removed by someone and pickups replaced with Alembic. Great sounding bass. The usual Artist has a big circuit board for the Moog effects, and these pickups sound good too. My RD Artist and Standard that I played in Nirvana are now in a special vault. I was playing these basses at gigs until 2020 and Darbury said I would lose them or be stolen. So I needed some replacements. I put the Nirvana sticker on the RD in the image as an nod to my Nirvana basses. Finally, notice Geddy Lee's Big Beautiful Book of Bass. This 408-page hardcover book showcases the bulk of Geddy's personal collection of bass guitars. The image is Geddy on an oxblood Chesterfield. Darbury and I just got the same kind of couch. I think I own 10 basses.
☆☆☆☆☆☆☆☆☆☆☆☆☆☆
Policy tomes, history and other fiction.
---
Public Policy
WASHINGTON HB1333 has died in the legislature.
Washington Policy Center: SHB 1333, to criminalize free speech and independent thought in Washington state
The Center Square: 'Ministry of Truth': Critics warn Washington extremism bill targets free speech.
---
---
(© 2023 Krist Novoselić All Rights Reserved) Thank you for visiting my page. This independent site does not track you or sell anything to advertisers. Do not remove and repost material from this site unless specified. This site is free from Warfare State propaganda!
POST Murky Slough PO Box 153 Naselle, WA 98638 USA